Heavy Metal Testing by ICP-MS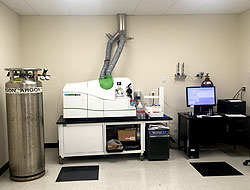 Health Level One Inc. utilizes self-contained Inductively Coupled Plasma-Mass Spectrometry (ICP-MS) system, that combines detection sensitivity equal or superior to GFAA (graphite furnace atomic absorption) with the rapid multi-element sample throughput of ICP-OES (ICP optical emission spectroscopy) guaranteeing extremely reliable and accurate results for quantitation of Heavy Metal in a wide range of Nutritional Supplements, Vitamins, Phyto-extract and Nutraceutical products. Quantitation limits to parts per billion.
Basic screening as recommended for Dietary Supplements. Additional tests for complete range of Heavy Metals as requested.
Limits generated as per Prop 65 recommendations unless specified.
Heavy Metal Testing covers:
Prop 65 Limits for Arsenic, Cadmium, Mercury and Lead in Dietary Supplements.
Full Screen Heavy Metals quantitated to parts per billion.
Reliable elemental quantitation on ICP-MS.
Highly competitive pricing with quick turnaround times